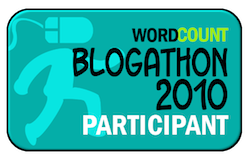 Call me crazy, as I already have plenty of other new projects, but I signed up to do the annual WordCount Blogathon again this year. The Blogathon runs from May 1-31 and consists of freelance writers and bloggers from all walks of life. Our mission is to post every single day in the month of May.
The Blogathon started in 2008, when freelancer Michelle Rafter, then a new blogger, decided to enlist a group of us to motivate each other to blog every single day during May. Michelle's blog, WordCount, is about freelancing in the digital age and has gained a boat load of readers since that first Blogathon.
I was a new blogger at that time as well and since I seem to do really well with group motivation, I joined in. It was a good experience and I did manage to blog most days. In 2009, 45 of us joined, I only missed one day, made a ton of new friends, some of whom I got to meet last fall at our writer's conference, and we had a Twitter party on June 1 to wrap it up and discuss the good and the bad of the Blogathon.
This year promises to be extra-exciting since the Blogathon now has sponsors and those of us who post every day will have our names entered in giveaways for writing-related prizes. We even have badges for our blogs! Needless to say, I'm psyched.
Be sure to tune in this month! I'll have at least one guest blogger, some fun giveaways and all sorts of creative posts to fill the wonderful month of May.